About Heather Golding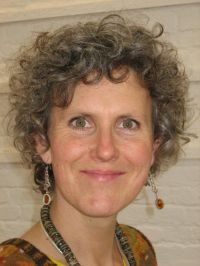 In 1991 I graduated from The Glasgow School of Art with a First Class Honours Degree in Printed Textiles, and was awarded 'The Francis Newbury Medal' for the most innovative designer of the year. Moving to London to live my dream as a designer, life revealed it had a very different path for me. Through some very difficult times the rainbow would always find me, bringing me hope and healing.
Following my love and passion for colour I discovered Aura-Soma (Colour Therapy for the Soul) which has over the past 17 years led me to realizing the gift of colour, also through my music and movement. Singing in what I feel to be the language of the rainbow, as colours appear to me as I sing. Recently I have recovered from a few years of Lymes desease. During this illness I lost the ability to read amongst other symptoms, including immense lethargy and weightloss. Through my art, colour, music and herbs, as well as homeopathy, I have restructured my mind and am able to read again! My healing gift through colour I now refer to as 'Visual Medicine'...food for the soul.
Back in 2002 my daughter and I spent three months on the Big Island of Hawaii. Moved deeply by the island and experiences with wild spinner dolphins, I was introduced to the art the sacred circle. My colour circles are a spontaneous art form, I never know or plan what I shall draw...each a visual prayer.
Since our first visit we have returned to Hawaii twice, which enhanced my work further. It was on our second journey in 2004 that I found my voice, or it found me! I have been singing ever since in performance aswell as one-to-one healing sessions combining colour with sound.
In 2008 I created my first CD 'Kutara'- in the language of Colour, accompanied by the beautiful sounds of the Harp played by Victoria Davies.
I spent 3 months living in Stanford, South Africa with Melissie Jolly- the Creator of 'Colour Mirrors'. Inspired by her colours and the beauty of South Africa I created a new collection of circles.
I am presently living in Farnham, Surrey, England - singing and performing regularly with a variety of musicians. Whilst also gathering together the pages of my Colour Book of Circles.
E L A K O Y A H