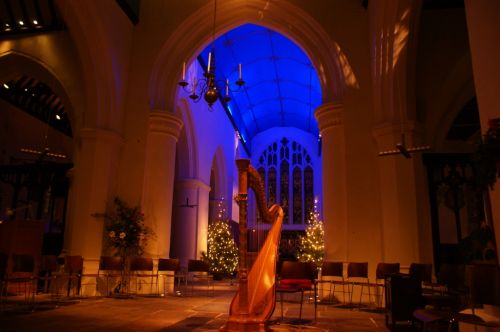 Photograph of St. Andrews Church, Farnham, Surrey. 2008. by Dominic Broster.
This is the church where my cd 'Kutara' was recorded in 2008, with the harpist Victoria Davies.
Music
'KUTARA'





Music for Peace.

This CD is a soothing collection of improvised songs from the heart, with a beautiful Harp accompaniment by Victoria Davies.

Inspired by the healing power of Colour, and my times spent with wild spinner dolphins in Hawaii.

Sample

Please listen to a sample from 'Kutara' which is on sale now. ( There may be a short delay whilst the buffer fills )

Download today

'Kutara' is available to download now by clicking on this button. You will be taken to PayPal and can pay by credit card or PayPal account.

Thankyou.
'Kutara' brings peace, and shares the healing gift of colour.Known throughout history for its healing properties, colour has always been one of the most natural gifts known to man, restoring balance, health and wellbeing.You just have to look at nature to see it is a language in itself, communicated everywhere... in flowers, feathers and the vast array of ocean blues and forest greens.
Experiencing the angelic beauty of the Harp, played by Victoria Davies 'Kutara' enfolds you in a cocoon of healing peace, bringing deep relaxation and rejuvenation.
The language in which I sing, is as pure and as innocent as a birdsong...'Kutara' is also inspired by my healing journeys spent in Hawaii with wild spinner dolphins...a celebration of creation!
-Healing Practioners experience 'kutara' as a wonderful accompaniment to their treatments.
-Bringing relief to insomnia by creating a soothing atmosphere, a sacred sanctuary. Children and teenagers also love it!
-Dancers, writers and artists find it beautiful and inspirational, complimenting and enhancing their creative expression in everyway.
-A couple of women have given birth whilst listening to 'Kutara. It has also been played at weddings and funerals.
*Please visit my 'feedback' section to read more personal responses.
-'Kutara' was recorded and mixed by Jay Parrack (www.myspace.com/jayparrack )
and Mastered by Dom Broster.
*KUTARA can be bought and downloaded from this website, or purchased at -
'The Natural Therapy Centre', Farnham, Surrey. (in Central car-park) for £10
Also at 'Kobie Dams', Gallery and gift shop, Farnham High Street (down the alley next to Vision Express).