Welcome to The Music and Art of Heather Golding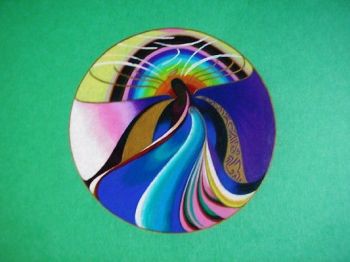 Huulanaya - A Spiritual Journey
Welcome to my healing story through Music, Art,
Storytelling, Dance and Colour Therapy.
In 2002 I first visited Hawaii with my daughter to swim with wild dolphins. Some years later I was diagnosed Homeopathically with Lymes Disease amongst other health challenges. The dolphins began to help me through my dreams and I would be guided to draw very precise imagery, along with a daily practice of creating colourful circles. I began to realise that if I did not draw I was unable to function properly, it would bring me immediate relief and flexibility.
I call these night sketches my 'visual medicine', or 'visual prayers'.(some of these more refined,almost anatomical sketches can be seen on my Instagram page -link below)
One morning whilst swimming amongst a small pod of dolphins with their babies too, I began to hear a word chanting through me repeatedly, it was 'ELAKOYAH'.
I would say 'elakoyah' before I begin a drawing,always surprised by the outcome.It would remind me of the beautiful song...
"make me a channel of your peace."
My dreamtime became very important to me,as I would recieve guidance in words, colours and visions, often from Jesus Christ. I would always feel reassured by the universal nature of art and music and my prayer for unity. I am at last thankfully in full recovery and begin to share a little of my art and music with you.
one breath at a time...Elakoyah!
.

www.facebook.com/elakoyah