About Heather Golding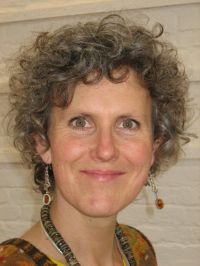 I graduated from The Glasgow School of Art in 1991, with a First Class Honours Degree in Printed Textiles, and was awarded 'The Francis Newbury Medal' for the most innovative designer of the year, chosen out of all the departments including Fine Art,Sculpture,Textiles and Graphic Design.
Following my love for colour I discovered Aura-Soma (Colour Therapy for the Soul) which has over the past 20 years taken me on an extraordinary journey into the natural healing gift of colour and light for wellbeing. Colour is indeed a language in itself, a universal language. Also through my music, singing in the 'sacred language of the heart', I have recieved and shared much healing. I am on my journey to wellness after a few years of Lymes disease. During this illness I lost the ability to read amongst other symptoms, including immense lethargy and weightloss. Through my art, which has become my medicine; colour, music, prayer and gentle movement, herbs, and homeopathy, I have managed to restructure my mind and am now able to read again! I have a large body of work which I hope to publish later in the year.My drawings I now refer to as 'Visual Medicine'...my daughter named my colourful circles soul food from the age of 8 years old!
In 2002 my daughter and I spent three months on the Big Island of Hawaii. Moved deeply by the island and experiences with wild spinner dolphins, I was introduced to the art of the sacred circle,Mandalas. My circles are a spontaneous art form, each one a visual prayer.
Since our first visit we have returned to Hawaii twice, which enhanced my work further. It was on our second journey in 2004 that I found my voice. I have been singing ever since in performance and workshops combining colour with sound and movement.
In 2008 I created my first CD 'Kutara'- in the language of Colour, accompanied by the beautiful sounds of the Harp played by Victoria Davies.
I spent 3 months living in Stanford, South Africa collaborating with Melissie Jolly- the creator of a healing system called 'Colour Mirrors'. Here I created a new collection of circles inspired by her work.
I am presently living in Farnham, Surrey, England - singing and performing regularly with a variety of musicians.
... E L A K O Y A H ...