'There is not enough of this type of music in this culture'- church organist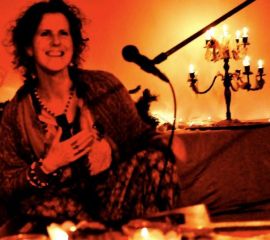 ' Improvised songs for the heart, with Native American Flute'
*
'REVIEWS'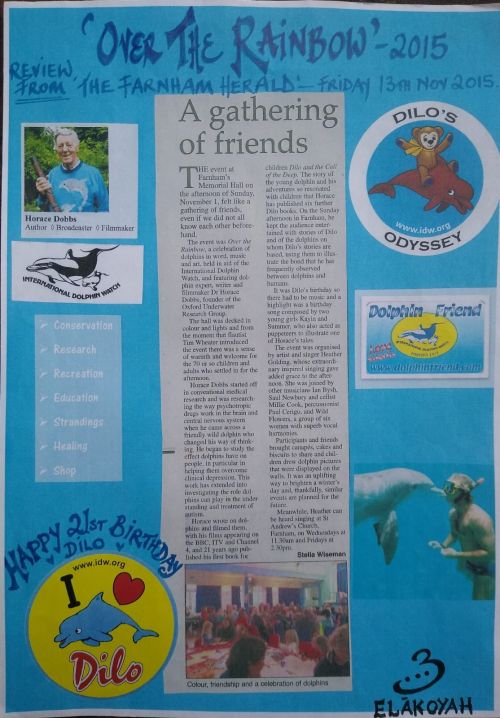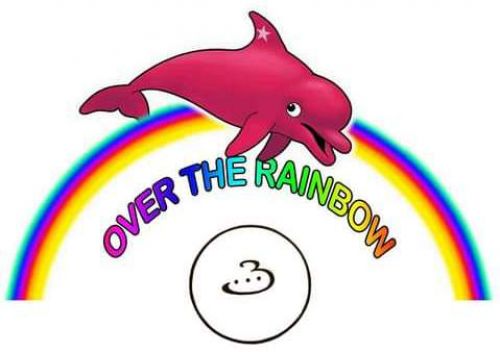 i am dedicating this moment to a truley remarkable man and dear friend, the late Dr.Horace Dobbs who was the founder of International Dolphin Watch.He spent many years researching dolphins and their healing relationship with humans. Aswell as making films/ documentaries, he is also the author of many books including a series of wonderful childrens books (for adults too,the child within us all) about a friendly dolphin called Dilo. For more information visit www.idw.org
I was truley blessed to have his friendship and to welcome him to Farnham to celebrate Dilo and his work.
I will be sharing more of my own healing artwork this year,2021, where the dolphins have been helping me from a distance (telepathically in my art and music) through years of health challeneges ,including Lymes desease.
The dolphins are our mystery and our miracles.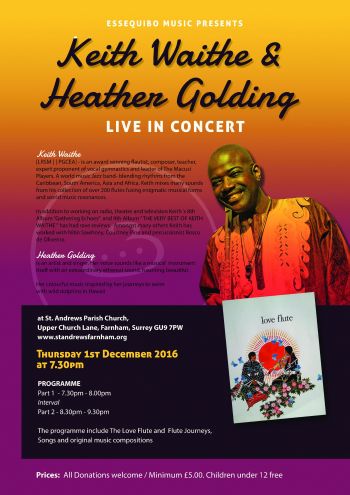 ---
' A christmas review from 'The Farnham Herald '
In the frantic run up to christmas, Heather Golding, a woman with an extraordinary, ethereal voice, gave people a chance to slow down and rest in St.Andrews Church, Farnham in Surrey. Here, in the glow of two lit christmas trees, she gathered a small group of listeners and sang to them in a way that is hard to describe.
Reverend Andrew Tuck from St.Andrews has called her singing ''a new language'', and indeed, she says that the music is given to her - she opens her mouth and out come sounds that emanate from both within her and, it seems, beyond. She says that the music is ''inspired by the harmonious flow of the earth - I feel an incredible connection with creation, a feeling of oneness, and my song, heard differently by each person, is the language of the universe, of the soul.''
That may seem too weird for some people, but listening to her that afternoon before christmas felt like a sanctuary, a place of peace and conveyed a sense that there was meaning in the universe.
She sings unaccompanied apart from the use of two hand bells which chime with a pure note, a Tibetan singing bowl, and a thumb piano or mbira, and at times is accompanied by a friend on Native American flutes. Yet her voice sounds like an instrument itself and at times recalled Celtic folk music, at times Northumbrian small pipes, once even the Blues. The outstanding acoustics in the church gave the music added depth and colour. It was
astonishing.
-Stella Wiseman
*The following are reviews after evenings shared with 'GEKKO'- Andrew Tilling,vocals with guitar and Saul Newbury with guitar.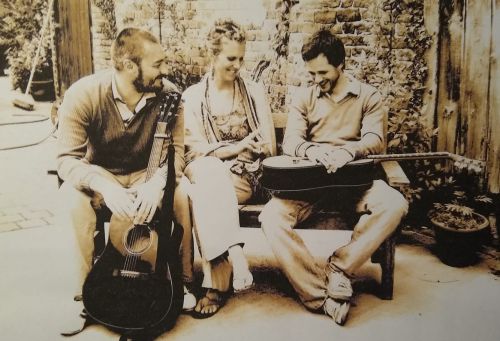 ''With effortless vocals,haunting melodies and rich guitar sounds, Gekko captivate you from the start and stay with you long after the final chord fades away.''
-*A review from The Farnham Herald about 'GEKKO'.

'Treasured evening in the presence of grace'
It is always a treat to hear Heather Golding and 'Gekko', and to sit with a cup of coffee and a sticky pastry in the Maltings Cafe while listening to them is something to be treasured.
I did so last week (and as we went to press Heather was preparing for a concert with other musicians in the James Hockey Galleries, UCA, Farnham, and in the midst of the hectic run up to christmas, this was a moment of blessed peace.
'Gekko' are Andrew Tilling and Saul Newbury. They are both talented guitarists and songwriters and Andrew is the one who gives voice to their music. Andrew has a gentle, melodious voice and sings with meaning and depth, complimented by Saul's, and his own, soulful guitar playing.
Among the songs last week was the first they wrote together - 'Helium Baloon', a more jazzy number than their subsequent ones, and full of romance. Romance is often in the air, as is in the endearing 'Shes coming home to Me', about Andrews fiancee who was in Brazil last christmas ''I'd speed up time to see you, but if I did I'd be scared I couldnt slow it once you arrived''.
Heather joins them for some of the songs and the three are working on an albumn together. Heather has an extraordinary voice and sings in words that cannot be understood on a cerebral level. She calls it 'inspired' singing, words that simplycome to her and she does not know what they mean. Nor do her listeners but it does not matter - it affects us on another level. She does join Andrew and Saul singing in english too and one of the songs, inspired by working with Heather, has the line ''Just let go, I'll help you growyourwings''. I've never been sure about the idea of being in the presence of angels, but when Heather and Gekko sing you feel in the presence of grace.
www.facebook.com/gekkotheband www.saulnewbury.com

*Withgratitude toShakeem Om Sari( www.ncaptured.smugmug.com) for his photograph of me at top of page.